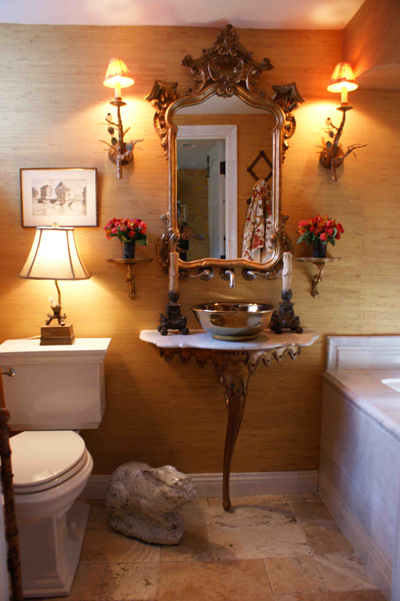 If you are planning a small bathroom which lacks natural light, embrace the masculine and employ dark, rich tones rather than try and fool the eye with all white on white. The truth is, you can't fool the eye. Small is small and dark is dark but neither has to be a negative. Small can feel sheltered and dark can feel tranquil and quiet. Sounds like a great place for a long, hot bubble bath after a long work day.
In this bathroom, I created an arched niche under the stairs and wrapped an undermount tub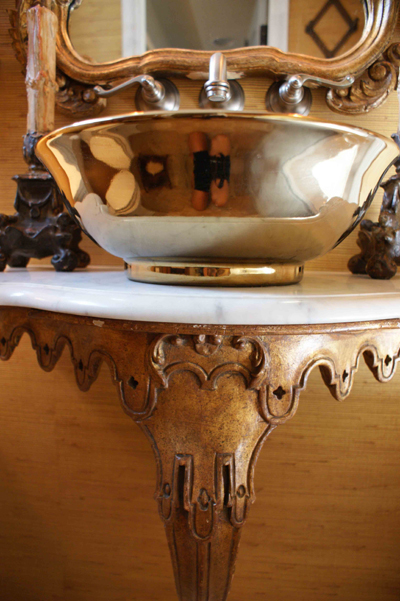 in marble tiles. The tiles were less expensive than a solid stone top and side. Gold grass wallpaper was hung and reflects what little light is available and plays off the camel tones with the drapery, artwork and accessories. The gold branch sconce lights were used throughout the home for continuity and add an organic element to the room.
Seeing as I was limited in space for the sink (a pedestal would have been the usual choice but I don't think along those lines), I scoured every antique shop I knew from here to Chicago and discovered an antique marble top with the most beautiful scalloped edging that just needed a good cleaning. I also procured a large Italian gold leaf wall sconce which serves as the base of the sink (once we drilled holes in it and found a way to mount it securely), a gold leaf mirror altered to accommodate the wall faucet and an old gold sink bowl. Certainly not your Home Depot bathroom.
This one is pure French Country – Kirsten style.