As this yearly cycle comes to an end and another begins, many of us will take the time to reflect on our habits, health and happiness;  perhaps scrawling off a list of resolutions to improve upon. May I suggest one? Learn to relish time in your own home. It's that simple. Most of us spend a great deal of time and money honing its luring qualities but few of us really revel in it afterwards. Our rooms and our things only take on meaning and history through our LIVING in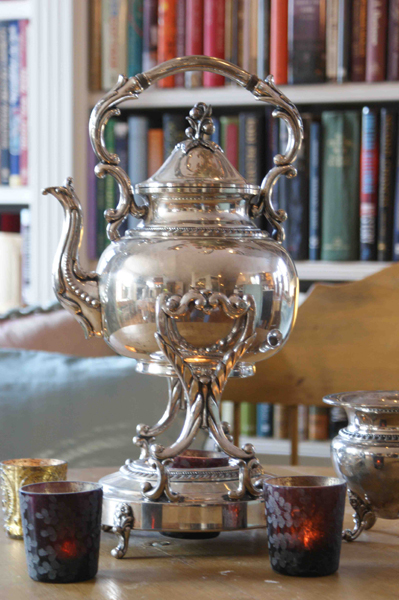 and among them.
As an example, I recently read an article in the Milwaukee Journal about the emergence of tea rooms in our area and I admit that I felt equally excited and disheartened. My sorrow comes from the nudge that we must once again leave home, drive somewhere and stand in line in order to savor something  that could have become part of a revered ritual in our own homes. Haven't we already seen this with our coffee houses? Have we lost the art of elegant social gatherings for coffee, tea and conversation? Have we relinquished the ritual of high tea and coffee klatches to historical BBC television programs? Why wouldn't we have a pot of tea warming over a candle every night just for ourselves? Are we to become consumers of everything on the run and served in a disposable cup?
My spirits were lifted when I was staging a client's home for Christmas and she offered me a drink. I asked for water and was delighted when she handed me my water in a Waterford  black cut crystal tumbler and then shared the merry history of it's procurement.  This is the spirit! Get out the tea service you have tucked away in the butler's pantry, pull out the collection of tea cups from your grandmother, use the wedding flutes that you haven't seen in 30 years and heat up the finest pot of green sencha tea within the walls of your most sacred of places – home.
Let  this be the year that we learn to create and find repose in the place called home. It is only in this living that our house becomes a true home . And whether you share it with laughter or savor the tranquility alone, it can only add to your health and happiness in this new year.