For those of you that are lucky enough to call Wisconsin home sweet home, it seems we have been blessed with an early spring this year and this has many of us craving all things summer.  One of my favorite clients who's English library you may have seen on the website last year  now seeks a peaceful sunroom extension off of the open kitchen.  The room is already filled with light from the oversized floor to ceiling windows and overlooks a serene backdrop of fresh green from spring to late fall.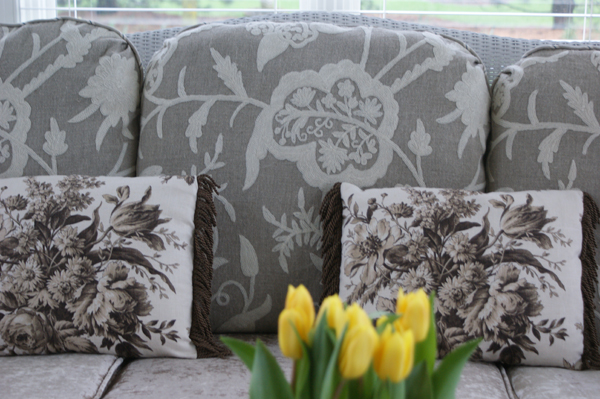 The glory of having a sunroom with windows like this is that it allows the view to become the art and therefore requires very little by way  of interior drama.  I have started with my favorite wool crewel tone on tone on the upper cushions of the settee to bring elegance to the room. A  a cream and navy stripe for both the piping and backsides introduces our blue again from the kitchen and offers such a crisp look. And finally, the softest taupe velvet on all of the seat bottoms beckons bare legs curled up with a summer novel at the ready.
Don't  think you have to use a wild combination of color to bring some visual enthusiasm to a room. Sometimes a blend of textures and pattern is enough… especially if the view is what you want to emphasize.
p.s. I will send you all an eblast of the finished room. Did you sign up yet?